Which bathroom tap is right for me?
When it comes to choosing the right bathroom tap, it ultimately depends on your individual preferences, style, and needs. Here are a few factors to consider in order to help you make an informed decision:
Functionality: Determine how you primarily use your bathroom. Are you looking for a tap that offers both hot and cold water in one stream, like a basin mixer tap? Or do you prefer separate taps for hot and cold water, like bath pillar taps? Consider your daily routines and how you want your tap to function.
Style and Aesthetics: Consider the overall design and theme of your bathroom. Do you have a modern and sleek bathroom, or is it more traditional and vintage-inspired? Choose a tap that complements the existing decor and enhances the style you're going for. Wall-mounted taps, freestanding taps, and waterfall taps each have their own unique visual appeal, so explore different options on our website to find the style that resonates with you.
Space and Installation: Assess the available space in your bathroom. Wall-mounted taps and freestanding taps can be great options if you're looking to save space or add a statement piece. On the other hand, if you have a bathtub and want the convenience of a shower as well, a bath shower mixer might be the ideal choice.
Budget: Consider your budget and explore taps within your price range. Remember, quality is important, so aim for taps that are durable and long-lasting. Finding the right balance between quality and budget will help you make a sensible choice.
Personal Preference: Ultimately, choose a tap that speaks to your personal taste and preferences. Take your time, explore different options, and envision how each tap would fit in with your vision for your bathroom.
What kinds of taps are available?
The vast assortment of bathroom taps listed on Bathroom Supplies Online allows you to choose from various styles, brands and functions to suit your preferences and bathroom aesthetics. Let's talk about a few key types to help you find one suited just for you.
Basin Mixer Taps:
Basin mixer taps combine hot and cold water in a single spout, through which the mixed water flows seamlessly. This allows users to easily achieve their desired water temperature and flow rate. Basin mixer taps come in a variety of styles to suit any bathroom decor, from minimal contemporary designs to traditional ornate styles to high-end luxury options. They typically feature a single lever control to adjust the water. Rather than having separate hot and cold water taps that must be manually adjusted, basin mixers incorporate both feeds in one mechanism so that users can smoothly tweak the temperature and flow with the motion of a single lever.
Below on the left you can see our extremely popular Ideal Standard Ceraline Silk Black Basin Mixer, and on the right is the super sleek Vado Life Mono Basin Mixer.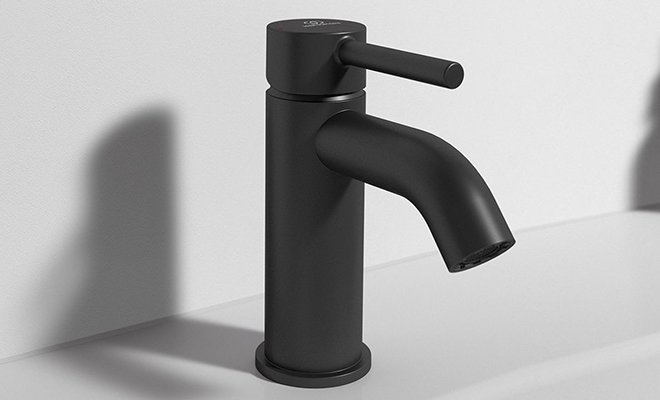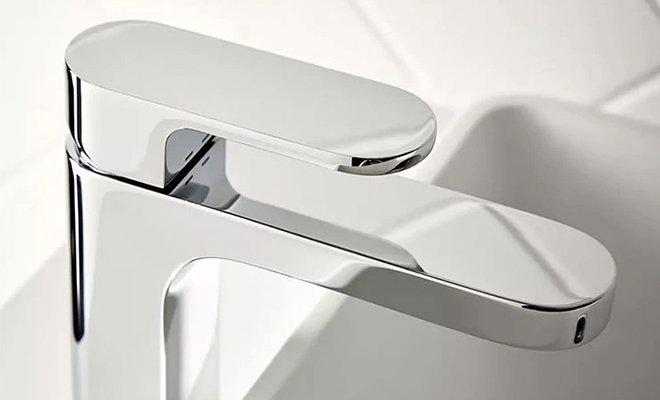 Basin mixer taps can accommodate most standard sink types, including countertop sinks, pedestal sinks, semi-recessed sinks, and vessel sinks. Their single spout design provides a convenient, space-efficient solution for controlling water flow and temperature in residential and commercial bathrooms.
Overall, basin mixer taps offer a modern, user-friendly alternative to traditional separate taps through their integrated one-spout design, variety of styles, and simplified controls. They allow for an optimised experience when using bathroom sinks, with smoothly adjustable water temperature and flow rate.
Basin Pillar Taps:
Basin pillar taps are a traditional choice for bathrooms that provide a classic style. These taps feature two separate spouts - one for hot water and one for cold water. The taps are mounted directly onto the basin surface, with each tap able to be operated independently.
Basin pillar taps have a timeless, elegant style that many homeowners and designers prefer for a traditional bathroom aesthetic. The separateness of the hot and cold taps gives a sense of distinction and control. The taps themselves come in a range of styles, from very ornate, decorative taps with an antique design to simpler, more contemporary styles with a minimalist profile. This range of styles means that you can choose a design of basin pillar taps that matches your particular bathroom decor, whether you prefer a period, ornate bathroom style or a simpler modern design.
Here you can see a striking pair of Bayswater Pillar Taps.

Some people find basin pillar taps lend a sense of formality to a bathroom. The split spouts also mean that it can take a few moments longer to achieve your perfect water temperature, as you adjust the hot and cold taps separately. However, many others feel that basin pillar taps give a bathroom a classic, high-quality feel that fits well with traditional home styles. They remain an enduringly popular choice of bathroom tap and can give your space a timeless elegance. With such a wide choice of styles available, basin pillar taps are a classic bathroom feature that can suit any decor.
Bath Pillar Taps:
Bath pillar taps are an essential fixture for any bathtub. Similar to basin pillar taps, bath pillar taps feature separate hot and cold water controls housed within a single pillar-like structure. This design allows for independent control over the temperature and flow of the water filling the bathtub.
Bath pillar taps are specifically made for installation on the rim of the bathtub, as opposed to the wall or floor. This allows the user to control and adjust the water flow directly while bathing. Bath pillar taps typically feature long spout reach to ensure proper water coverage of the entire bath basin.
Bath pillar taps come in a wide variety of styles and finishes to match different bathroom aesthetics. You can find traditional designs with cross handles and spout in polished chrome. More modern bath pillar taps have sleek, curved handles and spouts in materials like polished nickel or stainless steel. Some premium bath pillar taps feature specialised valves and cartridges for precise temperature control and reduced pressure loss.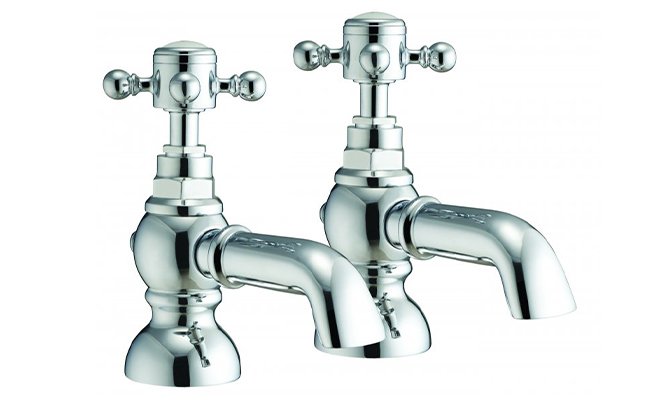 Above are two of our best-selling bath pillar taps - The Harrogate Bath Pillar Taps, and Burlington's superb pillar taps.
Choosing the right bath pillar taps for your bathroom comes down to personal preferences in style and function. Consider the size and shape of your bathtub, number of users, and water pressure when selecting between standard and pressure balance bath pillar taps. Then, choose a finish and design that matches or complements your bathroom vanity fixtures and other hardware. With so many options available, there is sure to be a bath pillar tap design that fits your needs and style.
Bath Shower Mixers:
Bath shower mixers offer the convenience of combining both a bath filler tap and a showerhead in a single fixture. These versatile fixtures provide two ways to fill the tub and take a shower within the same space, making them ideal for smaller bathrooms.
Bath shower mixers feature a built-in diverter valve that allows the user to switch between the bath and shower functions. When the diverter valve is in the bath position, water flows from the bath tap spout to fill the tub. Rotating the diverter valve activates the showerhead, redirecting water flow to the shower spray. Having both a bath filler and shower in one fixture eliminates the need for separate taps and shower valves, saving space on the wall and under the tub.
Bath shower mixers come in a variety of styles to suit different design preferences. Traditional bath shower mixers have cross handles and circular spouts, often with brass or chrome finishes. Contemporary bath shower mixers feature simpler lever handles and linear spouts, usually in polished metal or plastic. Bath shower mixers also differ in installation method, with wall-mounted and deck-mounted options available.
Pictured below is the Vado Zoo bath shower mixer.
Deck-mounted bath shower mixers sit on the edge of the tub and typically have extending spouts for optimal water coverage of the tub. Wall-mounted bath shower mixers attach to the wall above or beside the tub. Both installation methods work well, with the choice mostly based on personal preferences and bathroom layout.
For bathrooms that need to accommodate both bathing and showering functions, a bath shower mixer can be a compact yet fully featured solution. The wide range of styles and finishes allows you to find a bath shower mixer that not only maximises function, but also complements your overall bathroom aesthetic.
Bath Filler Taps:
Bath filler taps are a crucial component in any bathroom, designed with the specific purpose of filling your bathtub in a quick and efficient manner. The design of these taps typically includes a wide spout, a feature that sets them apart from other types of taps. This wide spout is not just an aesthetic choice, but a functional one as well. It allows for a higher water flow rate, which means your bathtub can be filled much faster than with standard taps, saving you time and enhancing your bathing experience.
There are two main types of bath filler taps based on their installation method: wall-mounted and deck-mounted. Wall-mounted bath filler taps are installed directly into the wall above the bathtub. This type of installation is ideal for bathrooms where space is at a premium or for a minimalist aesthetic, as it keeps the area around the bathtub clear. On the other hand, deck-mounted bath filler taps are installed on the rim of the bathtub itself. This type of installation is more traditional and allows for easy access to the taps.
Above is the Ideal Standard Ceraline Deck Mounted Bath Filler and the gorgeous Burlington Riviera.
In terms of style and finish, bath filler taps offer a wide range of options to suit any bathroom decor. From sleek and modern designs in polished chrome or brushed nickel to more traditional styles in oil-rubbed bronze or antique brass, there is a bath filler tap to match every aesthetic preference. Some bath filler taps also come with additional features such as thermostatic controls, which allow you to set and maintain the perfect water temperature, or handheld shower attachments for added functionality.
Bath filler taps are a practical and stylish addition to any bathroom. Their wide spouts allow for a quick and efficient filling of the bathtub, while their various styles and finishes offer plenty of options to match your bathroom decor. Whether you choose a wall-mounted or deck-mounted model, a bath filler tap can enhance your bathing experience and add a touch of elegance to your bathroom.
Bath Spouts:
Bath spouts represent a sleek and minimalist approach to bathroom design, offering a streamlined option for filling your bathtub. Unlike traditional taps, bath spouts provide a clean, uncluttered look, with the water flowing directly into the bath without the need for additional controls on the spout itself. This simplicity in design does not compromise functionality, but rather enhances the aesthetic appeal of your bathroom, making it a popular choice for contemporary spaces.
The installation of bath spouts can be either on the wall or the rim of the bathtub. Wall-mounted bath spouts are installed directly into the wall above the bathtub, creating a waterfall-like effect as the water flows into the bath. This type of installation is ideal for bathrooms where space is at a premium or for a minimalist aesthetic, as it keeps the area around the bathtub clear. On the other hand, rim-mounted bath spouts are installed on the edge of the bathtub itself. This type of installation is more traditional and allows for easy access to the spout.
While bath spouts do not have built-in controls for water temperature or flow, they can be paired with separate hot and cold water controls or with a mixer valve for temperature control. Separate hot and cold water controls allow you to manually adjust the temperature by mixing hot and cold water to your liking. This option gives you full control over the water temperature but requires a bit more effort to get the perfect mix. A mixer valve, on the other hand, allows you to set and maintain the perfect water temperature with a single control, providing a more convenient and user-friendly option.
Bath spouts offer a sleek and minimalist option for filling your bathtub, providing a clean and uncluttered look that can enhance the aesthetic appeal of your bathroom. Whether you choose a wall-mounted or rim-mounted model, and whether you pair it with separate hot and cold water controls or a mixer valve, a bath spout can provide a stylish and functional solution for your bathing needs.
Kitchen Taps
Kitchen taps have many functions that make them a suitable option for bathroom use. While primarily designed for kitchens, their features and versatility can benefit bathroom installations as well.
A key advantage of using a kitchen tap in the bathroom is the availability of swivelling spouts. Many kitchen taps have spouts that can rotate 360 degrees, allowing you to direct the stream of water precisely where you need it. This makes them effective for filling sinks, washing feet in the tub, or spraying areas that need extra attention while showering. The rotation feature significantly increases the functionality of the tap over standard bathroom taps with fixed spouts.
Another benefit is the option of pull-out spray functions on some kitchen taps. Many people prefer having a handheld sprayer in the bathroom for tasks like showering, washing oneself, rinsing hair, and bathing pets. Kitchen taps that include pull-out sprayers allow you to accomplish these activities more conveniently. The sprayers are also retractable, keeping them out of the way when not in use.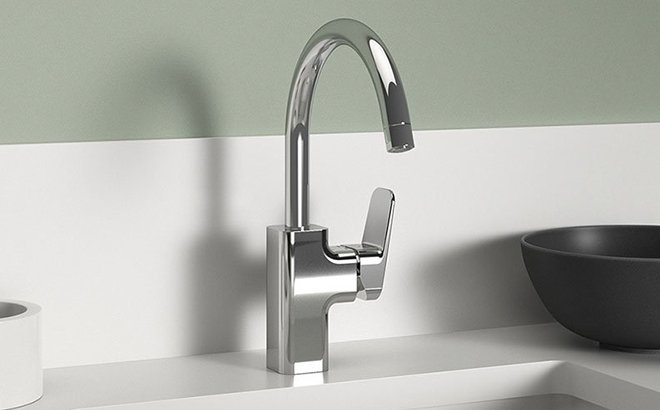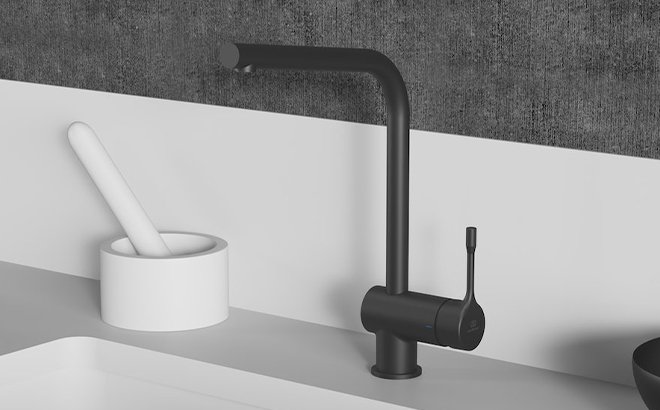 Above on the left is the Ideal Standard Ceraplan Kitchen Tap, and on the right is the Ceralook Tap.
Kitchen taps come in a variety of styles and finishes to match your existing bathroom aesthetic. They are available in both single-handle and dual-handle designs with options for different handles, spout shapes, and finishes like chrome, brass, and bronze. This variety ensures you can find a kitchen tap to complement your bathroom decor while providing the functions that will improve your daily routine.
While kitchen taps are designed for the kitchen, their powerful features and range of styles make them an excellent choice for bathroom use when you require the benefits of a swivelling spout, pull-out sprayer, or versatile design.
Basin and Bath Wastes:
Basin and bath wastes are essential components of your bathroom's plumbing system, designed to allow water to drain from your sink or bathtub. There are several options available based on your preferences and needs.
Some of the most common types are pop-up wastes, click-clack wastes, and traditional plug-and-chain wastes. Pop-up wastes have a pop-up stopper that rises when not in use and sinks down when you want to drain water. They are convenient and easier to use for some. Click-clack wastes have a lever arm that you pull or push to open and close the drain. They tend to be more simple and cheaper compared to pop-up wastes. Traditional plug-and-chain wastes have a rubber drain plug attached to a chain that you pull to open and release to close the drain.
When selecting a waste system for your sink or bathtub, compatibility is key. The drain hole size and location vary by basin and tub model. You want to ensure the waste you choose has a flange that will fit tightly within the drain hole and attach securely. Most waste and drain systems also come in different finishes to match your faucets and other fixtures.
It is important to carefully measure your existing drains before buying a new waste system. This will give you the best chance of a seamless install with a compatible waste that functions properly and does not leak. Taking the time to choose the right waste for your specific basin and tub will help ensure many years of trouble-free use.