Choosing the Perfect Bath for Your UK Home
Choosing the right bath for your home can be a daunting task, given the plethora of options available in the market. However, with a clear understanding of your needs, space, and budget, you can find the perfect bath that not only complements your bathroom decor but also provides a relaxing retreat. Here's a comprehensive guide to help you navigate through the process.
Understanding Your Space
The first step in choosing a bath is understanding the space you have. Measure your bathroom accurately, considering the placement of windows, doors, and other fixtures. This will help you determine the size and shape of the bath that can fit comfortably in your bathroom.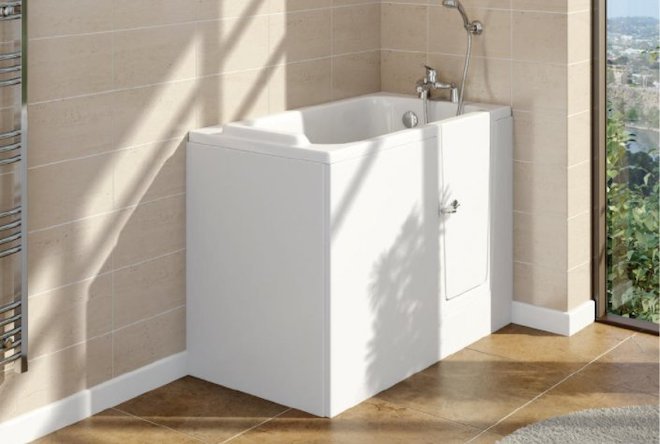 Types of Baths
Single Ended Baths: Single ended baths, also known as slipper baths or drop front baths, are an elegant and minimalist bathing option for any bathroom, small or large. Unlike double ended baths with sloped backs at both ends, single ended baths have a sloped back at one end and a straight vertical end at the other. This simple and traditional design has been popular for decades and continues to be favoured by those looking for a bath that showcases luxury in a subtle, understated way.
The beauty of a single ended bath lies in its simplicity. The straight back end of the bath provides a perfect surface to install one of our mixer taps and hand shower, leaving the sloped end free and unobstructed. This creates a clean, minimalist look. The depth and rolled rim of a single ended bath also allows for a more comfortable reclining position as you bathe, enabling you to relax and enjoy a long, luxurious soak.
For those with smaller bathrooms, a single ended bath is an ideal choice. Their straightforward design suits compact spaces well and they do not require as much floor space as other freestanding bath styles. Their simplistic shape also makes them easier to install and they work perfectly with either contemporary or traditional bathroom decors.
Single ended baths are available in a range of materials like cast iron, acrylic, stone, and ceramic. Cast iron and stone baths provide an elegant vintage feel while acrylic baths have a cleaner, more modern look. Regardless of the material, a single ended bath will make a stunning focal point in any bathroom and provide the perfect backdrop for a relaxing and indulgent bathing experience. They embody luxury through their simplicity, and their timeless design ensures they remain a stylish and coveted choice for bathrooms.
Pictured below is one of our best sellers, the single ended Profile bathtub from Carron Baths
Double-ended baths are a luxurious and practical addition to any bathroom. These baths provide a comfortable and spacious environment for a relaxing soak, and their symmetrical design means that they can be used by two people at once. If you are looking for a stylish and functional bath that can accommodate multiple users, a double-ended bath could be the perfect choice for your bathroom.
A double-ended bath is a type of bathtub that features a central waste and overflow, allowing two people to bathe at the same time. These baths are often symmetrical in design, with the taps and waste located in the middle of the tub, rather than at one end. This means that both ends of the bath are equally comfortable and spacious, making it easy for two people to enjoy a relaxing soak together.
Pictured below is a great double ended bath from a leading brand in the UK, Ideal Standard.
There are many benefits to choosing a double-ended bath for your bathroom. Firstly, these baths are incredibly spacious and comfortable, providing plenty of room for you to stretch out and relax. This makes them ideal for those who enjoy a long soak in the bath, as well as couples who want to bathe together.
Another benefit of double-ended baths is their symmetrical design. Unlike traditional baths, which often have one end that is more comfortable than the other, double-ended baths are equally comfortable at both ends. This means that you can lie back and relax, no matter which end of the bath you are using.
In addition to their comfort and practicality, double-ended baths also look great in any bathroom. They are available in a wide range of styles and materials, from classic freestanding designs to more modern acrylic or composite baths. This means that you can choose a bath that complements the style of your bathroom, whether it is traditional, contemporary, or something in between.
When choosing a double-ended bath for your bathroom, there are several factors to consider. Firstly, you will need to think about the size of your bathroom and the space available for the bath. Double-ended baths come in a range of sizes, from compact models that are perfect for smaller bathrooms, to larger baths that can accommodate two people comfortably.
Finally, you will need to consider the accessories that you want to accompany your double-ended bath. Do you want a shower attachment or a set of taps that complement the style of the bath? Do you need a bath screen or curtain to prevent water from splashing onto the floor? These are all important considerations when choosing a double-ended bath for your bathroom.
Walk-in baths, a popular choice among seniors and individuals with mobility issues, offer a safe and comfortable bathing solution. These specially designed tubs come with a door for easy access, eliminating the need to climb over a traditional bathtub edge, thereby reducing the risk of slips and falls.
One of the primary benefits of walk-in baths is the enhanced safety they provide. Equipped with non-slip floors and grab bars, these tubs are designed to prevent accidents, a crucial feature considering that bathroom falls are a leading cause of injury among seniors. The easy-access door and low threshold allow users to enter and exit the tub safely, making them an excellent choice for those with mobility challenges.
Pictured below on the left is the Abalone Walk-In Bath, and on the right is our Cortega Walk-In Bath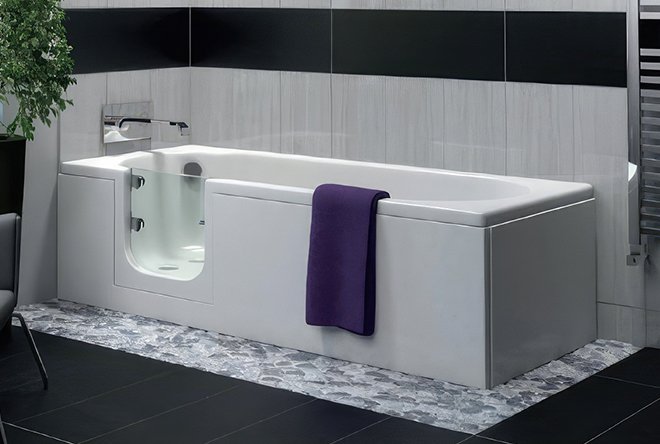 Walk-in baths also offer therapeutic benefits. Many models come with hydrotherapy jets, providing a spa-like experience that can help soothe aching muscles and joints, improve circulation, and promote relaxation. This feature can be particularly beneficial for individuals with arthritis, chronic pain, or circulatory issues.
Walk-in baths are generally more expensive than standard tubs, with prices varying depending on the features included. Installation can also be costly and may require professional assistance, especially if bathroom modifications are needed to accommodate the tub.
Additionally, it's important to consider the size of the walk-in bath, as they require more space than standard tubs. Therefore, they may not be suitable for smaller bathrooms.
Walk-in baths can offer a safe, therapeutic bathing experience for seniors and those with mobility issues. However, it's essential to consider factors such as cost and space requirements before making a decision. With careful consideration and planning, a walk-in bath can be a valuable addition to enhancing independence and quality of life in the bathroom.
Freestanding baths are a luxurious and stylish addition to any bathroom. These standalone tubs offer a unique and elegant aesthetic that can transform a bathroom into a spa-like sanctuary. If you're considering a new bath for your bathroom, a freestanding bath could be the perfect choice.
One of the biggest advantages of freestanding baths is their design. These bathtubs come in a range of styles, from classic claw-footed designs to contemporary, minimalist models. They can be made from a variety of materials, including acrylic, cast iron, stone, and copper, giving you the flexibility to choose a bathtub that complements the style of your bathroom perfectly. Freestanding baths can be a centrepiece of any bathroom, offering a luxurious and stylish focal point.
Another great advantage of freestanding baths is their flexibility. Unlike built-in tubs, freestanding baths can be placed anywhere in the bathroom, giving you more freedom to design the space. This can be particularly useful if you have an unusual or awkwardly shaped bathroom or if you want to create a unique layout. Freestanding baths can also be installed with a range of different taps and fixtures, allowing you to customise the look and functionality of your bathtub to suit your needs.
Freestanding baths are also comfortable. These tubs are typically deeper and wider than built-in tubs, giving you more space to stretch out and relax. Many freestanding baths are also designed with a sloping back, making it easier to recline and enjoy a long soak. This can be particularly beneficial if you have aching muscles or want to relax after a long day.
Finally, freestanding baths are easy to maintain. Unlike built-in tubs, which can be difficult to clean around the edges, freestanding baths are easy to access from all sides. This makes it easier to keep your bathtub clean and hygienic. Additionally, many freestanding baths are made from durable materials that are resistant to scratches and stains, making them easier to keep looking their best for years to come.
In conclusion, freestanding baths offer a range of benefits for those looking for a luxurious and stylish bathtub. From their unique design to their flexibility and comfort, these standalone tubs can transform any bathroom into a spa-like sanctuary. If you're considering a new bath for your bathroom, a freestanding bath could be a great choice. With a range of styles and materials available, you're sure to find a bathtub that fits your needs and complements the style of your bathroom perfectly.
Shower baths have become a popular choice in modern homes due to their versatility and space-saving design. They offer the best of both worlds, combining the convenience of a shower with the luxury of a bath, making them an ideal solution for those with diverse bathing preferences or limited bathroom space.
The primary advantage of a shower bath is its dual functionality. For those who prefer a quick, refreshing shower in the morning, the shower feature is perfect. On the other hand, the bath option provides a relaxing retreat for a long soak after a tiring day. This flexibility makes shower baths a practical choice for families with different bathing needs.
Shower baths are also a great space-saving solution. In smaller bathrooms where it might be challenging to fit both a separate bath and shower, a shower bath provides a practical and stylish solution. They come in various designs and sizes, including L-shaped or P-shaped models, which offer more space for showering while maintaining the comfort of a full-sized bath.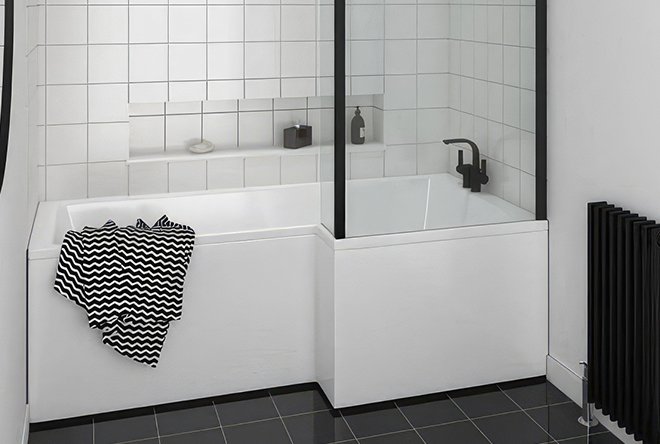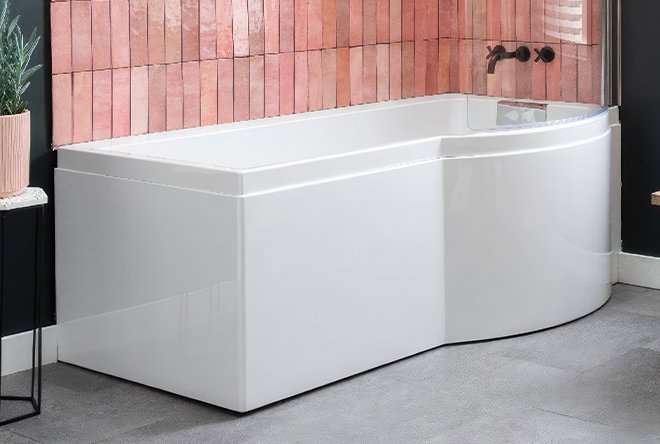 In terms of design, shower baths can enhance the aesthetic appeal of your bathroom. With sleek lines and modern fittings, they can add a touch of elegance and sophistication. Many models come with glass shower screens instead of traditional curtains, adding a clean, minimalist look.
Moreover, shower baths are cost-effective. Installing a shower bath is typically less expensive than installing separate shower and bath units. This cost-effectiveness extends to utility bills as well; showers generally use less water than baths, providing an eco-friendly and budget-conscious option for daily use.
In terms of accessibility, many shower baths now come with features such as low-level entry and non-slip surfaces, making them a safer option for the elderly or those with mobility issues. Some models even include built-in seats for added comfort during showering.
However, it's essential to consider the quality of the fixtures and fittings. Opt for a model with a thermostatic shower for safe and comfortable temperature control. Also, consider the durability of the shower screen; toughened safety glass is a good choice.
In conclusion, shower baths offer a versatile, space-saving, and stylish solution for modern bathrooms. They cater to different bathing preferences, making them an ideal choice for families. With their cost-effectiveness and range of design options, shower baths are a worthy investment for any home.