The most primitive forms of towel warmers were essentially basic metal racks positioned near heat sources, such as boilers or fireplaces. As the years passed and innovation took over, towel warmers underwent a significant transformation. The designs began to shift from being mere attached racks to freestanding units featuring either electric or hydronic heating mechanisms, extending their use beyond hotels to regular homes.
A Blend of Aesthetics and Functionality
The sheer elegance that traditional towel warmers lend to a bathroom is undeniable. With materials like brass, bronze, and nickel at the helm, they exude a polished and ageless appearance. The intricacy of their scrollwork and the minutely crafted details don't just serve an aesthetic purpose but also add depth to their functionality. Freestanding designs, especially, strike the right balance between form and function. Their design, although spacious with bars and hooks, does not give a cluttered look. Moreover, the radiant heat these warmers emanate feels absolutely therapeutic, offering a spa-like feel right within the confines of one's home.
Towel Warmers in the Modern Age
While traditional towel warmers remain a staple in luxury hotels and spas, their popularity in residential bathrooms is on the rise. This shift is understandable given that they now represent a feasible slice of luxury. Their radiant heat capabilities serve a dual purpose. They not only warm up your towels but also act as a heat source for the entire bathroom. Furthermore, they help reduce humidity levels and ensure towels remain dry between uses, making them a practical addition to modern bathrooms.
Exploring the Types
Towel warmers have primarily carved two niches in the market:
Traditional Hydronic Towel Warmers: These are reminiscent of age-old heating systems. As they integrate with the household's existing plumbing, they source their heat from a central boiler. This ensures that your towels are not just dry but warm, offering a touch of luxury after a relaxing bath or shower.
Electric Towel Warmers: Representing the modern touch in bathroom accessories, these units are independent of your home's heating system. They operate by using electrical resistance to warm either the water or oil they contain. This allows for a more flexible installation process, making them suitable for a broader range of homes.
In terms of materials and craftsmanship, towel warmers often exhibit a robust metallic construction. The metals of choice are typically steel, stainless steel, or aluminium, each chosen for its durability and heat conduction properties. When it comes to finishes, the spectrum is broad. Choices range from the gleaming allure of chrome to the understated elegance of polished steel to the modern touch of a sophisticated lacquer. Design-wise, there is no dearth of options. While the ladder style remains a perennial favourite, innovative turnable versions and other avant-garde designs cater to those with a penchant for the contemporary.
Weighing the pros and cons
Towel warmers are more than just a symbol of opulence. They are practical additions to any bathroom, offering numerous benefits:
Advantages:
Aesthetics: A well-chosen towel warmer can dramatically elevate the visual appeal of a bathroom, transforming it from ordinary to exceptional.
Quick Drying: With a towel warmer in place, gone are the days of damp towels. It ensures your towels are dried promptly, offering the sheer delight of a warm embrace every time you reach for one.
Eco-friendly: These units contribute to water conservation by reducing the frequency of washing, as towels dried promptly tend to stay fresher for longer.
Variety: The diverse range of designs, finishes, and sizes means there's a towel warmer to complement every bathroom's aesthetic and spatial constraints.
Disadvantages:
Energy Consumption: While towel warmers are efficient, incorrect usage, such as covering them or not turning them off when not in use, can lead to heightened energy bills.
Heating Limitations: In more expansive spaces, a towel warmer alone might not suffice. This could necessitate an auxiliary heating solution, potentially increasing costs.
Traditional Radiators:
There is something undeniably captivating about traditional radiators. For those residing in period homes, these fixtures serve as more than just practical utilities. Indeed, with their intricate designs and cast iron elegance, traditional radiators add both warmth and character to a space. Functioning as statement pieces, these radiators have the uncanny ability to transport us back in time, offering a subtle nod to history.
Historical Significance:
The journey of traditional radiators began in earnest during the Victorian era. This was a time when artistry and functionality married to produce stunning home embellishments. Though the concept of radiant heat has its roots in ancient history, it was the Victorian era that popularised the use of decorative cast iron and steel radiators. By the 1890s, these radiators had become a standard fixture in numerous UK homes. Remarkably, many of these early installations still function today, serving as a testament to their durability and design. Such period designs, steeped in vintage charm, breathe life into our living spaces.
Types and Designs:
Radiators have seen an evolution in design, tracing back from the Victorian through the Edwardian and Georgian periods. Each era imprinted its signature style on these functional pieces. The towering vertical presence of traditional cast iron radiators, with their ornamental columns and meticulously detailed scrollwork, is a sight to behold. On the other hand, the compact flat panel radiators, despite their smaller footprint, carry an undeniable old-world charisma with their engraved surfaces. Complementing these are the traditional radiator covers and valves, each contributing to the holistic aesthetic. The sheer variety in shapes and sizes means that there's a radiator to match every room and every style.
Materials & Functioning:
At their core, traditional radiators are a marvel of engineering, making use of materials such as cast iron, steel, aluminium, and copper. These materials were chosen not just for their ornate appeal but also for their excellent heat conductivity and resilience. The early designs of cast iron radiators depended heavily on steam or hot water systems. The water, once heated in an internal chamber, would then radiate warmth into the room through both convection and radiation. Contemporary versions might incorporate electric inserts, but they often retain the beloved classic appearance. Furthermore, with the inclusion of shut-off valves, residents are granted greater control over their heating needs.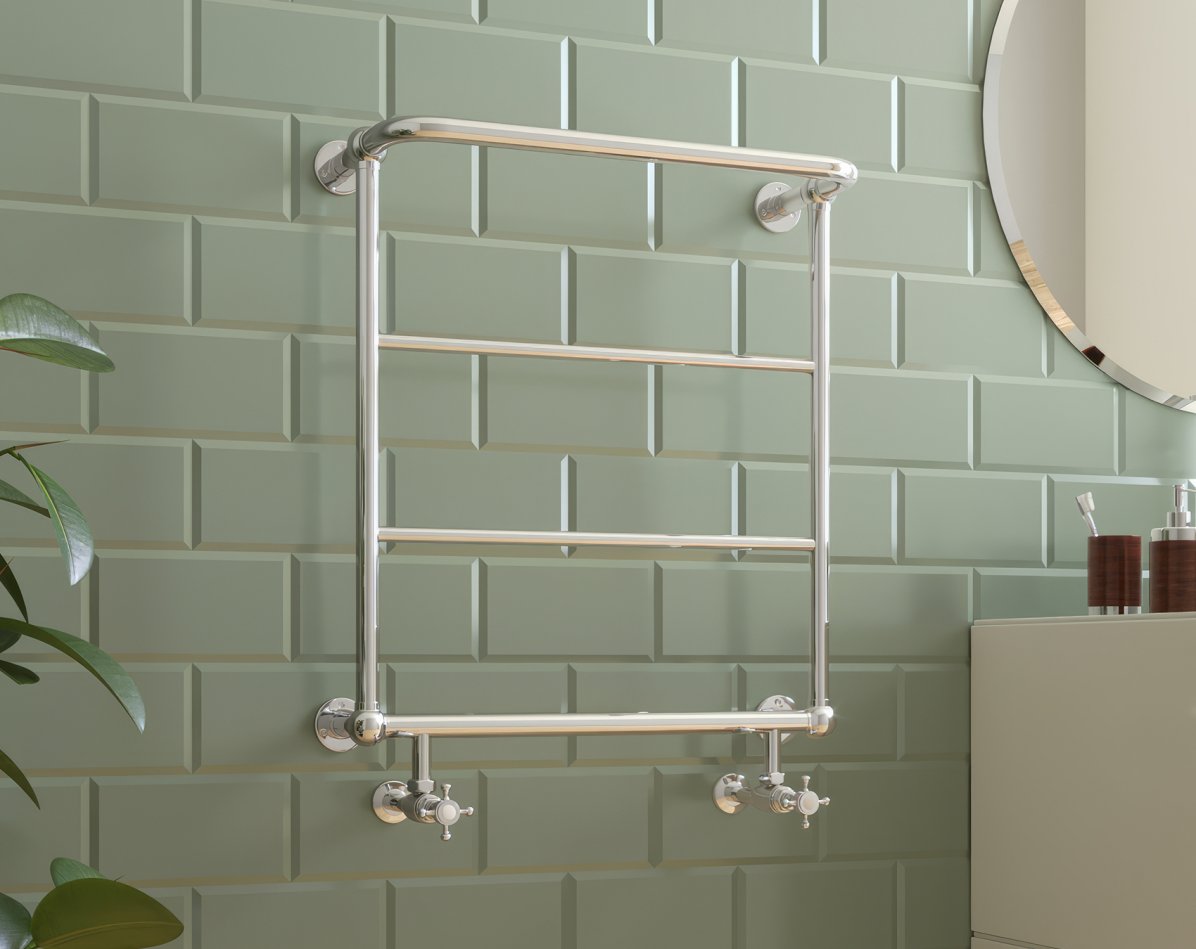 Aesthetics & Placement:
What sets traditional radiators apart is their inherent versatility. They're equally at home in a vintage Victorian setting as they are in a chic modern apartment. Their decorative exteriors make them a popular choice for focal points in living rooms, bedrooms, and entryways. Often, they are strategically placed below windows, harnessing the natural heat while also enhancing circulation. And for homes bearing the arts & crafts design, a horizontal installation of these radiators fits just perfectly.
Modern Adaptations:
Traditional radiators are timeless, but that doesn't mean they haven't seen innovation. Today, the blend of modern engineering with period style ensures that while the external aesthetic remains classic, the functionality is anything but dated. Contemporary iterations come in a myriad of sizes, finishes, and outputs, all while retaining the essence of their historical counterparts. They are not only durable and energy-efficient, but they can also be customised to suit specific needs, ensuring that the decorative appeal of these radiators shines through, whether in period homes or new-age spaces.
Conclusion:
In the realm of home design, traditional radiators stand as a beacon of sophistication. They embody a rich tapestry of history, artistry, and craftsmanship. Homeowners today are presented with a unique opportunity to forge a connection with the past, all while enriching their modern interiors. Serving as symbols of elegance and distinction, traditional radiators, with their nostalgic allure, truly create an ambiance of warmth, both literal and figurative, in any setting.
An Outstanding Brand: Burlington
Burlington has etched its name into the annals of home heating solutions with a promise of timelessness. As connoisseurs of vintage designs, the brand is adept at taking inspiration from the Victorian era, a time renowned for its opulence and attention to detail. Burlington has preserved these values, thereby ensuring that every radiator and towel warmer they produce is a masterpiece that seamlessly blends traditional elegance with modern technology.
Such is the commitment to excellence that the brand doesn't just view their products as mere heaters but as pieces of functional art. These are items that do more than just warm a room; they exude charm, telling a tale of craftsmanship that resists the fleeting allure of contemporary trends. Every twist, turn, and detailed engraving on a Burlington product speaks of a meticulous design process. They're not just purchased; they are chosen to be a part of one's living legacy.
Artistry Beyond Functionality
Beyond their apparent beauty, Burlington's towel warmers and radiators are synonymous with luxury. They're not just heaters; they're sculpted pieces of art with an innate ability to transform the aesthetics of any space they inhabit. Their intricate detailing and poised silhouettes make them more than just tools for temperature control. They metamorphose into the centrepiece of a room, drawing eyes and evoking admiration.
Such artistry, however, doesn't come at the expense of quality. Burlington's use of robust materials like brass and steel guarantees products that not only look splendid but also endure. Coupled with innovative heating technology, these radiators and towel warmers ensure optimised heat distribution, making them as efficient as they are elegant.
Diverse Designs with a Singular Promise
Exploring the myriad designs that Burlington has to offer, one cannot overlook the Burlington Berkeley range. This collection encapsulates the brand's ethos of blending vintage aesthetics with modern functionality. As part of Burlington's 'Old Fashioned Bathrooms' range, the Berkeley line is symbolic of ageless elegance.
One can almost feel the Victorian touch with their gentle curves, ornate flourishes, and gleaming chrome finish that subtly adds a luxurious hue. Furthermore, their compatibility with an electric summer heating kit showcases their modern versatility, ensuring that your towels remain warm and inviting throughout the year.
Notably, among the standout pieces in the Berkeley range are the wall-mounted towel warmer, designed with dimensions of 1340mm by 500mm, and the stately floor-standing traditional towel rail, which stands at 965mm by 675mm. While the wall-mounted variant is an epitome of space efficiency, the floor-standing model is a nod to vintage grandeur, perfectly encapsulating the spirit of times gone by.
Conclusion
In essence, Burlington offers more than just heating solutions. It promises an experience—a journey back to a time when craftsmanship was paramount. Whether you opt for a discreet wall-mounted heater or a floor-standing spectacle, you're not just bringing warmth into your home; you're ushering in an era of elegance, sophistication, and timeless beauty. The Burlington Berkeley range exemplifies this promise, making it a prized possession for those who value both form and function.